Academics and Activities at The Oratory
This section includes information on courses offered at The Oratory and, below that, a sample schedule of classes and an assortment of images of students' activities:
Some of the unique classes we offer at The Oratory can be highlighted:
History
For the 2022-23 academic year we begin a four-year cycle of history, taught be Mr. Casey Musselman.

9th grade: Ancient Greek and Roman History
10th grade: The Era of Christianity (Medieval History)
11th grade: American History
12th grade: 1st semester: Modern History; 2nd semester: American Government

Both the 11th and 12th grade courses can be dual-enrollment classes in that students in these classes taught by Mr. Musselman may earn college credits: 3 credits for American History, and 6 credits for the 12th grade year.
Art Study
For the younger children "art study" consists of drawing the beauty of the world around them, as well viewing, drawing from and learning to recognize and enjoy some of the most beautiful works of art and architecture ever created.

For older children, Art Study introduces students to great works of art and architecture and nurtures their awareness of the necessity of beauty. Students learn about individual artists in a specific time and place and the evolution of styles and technologies—all against the backdrop of history made fascinating and unforgettable when revealed through art and architecture.


Choir
All students are enrolled in—and thoroughly enjoy—singing class! The children begin by learning to sing spirited and timeless music such as folk songs and sea shanties. This prepares them to sing sacred music. The goal of Choir is to inspire in children a love of singing, to sing well, and to sing well to the Lord.
---
A Sample Schedule of Classes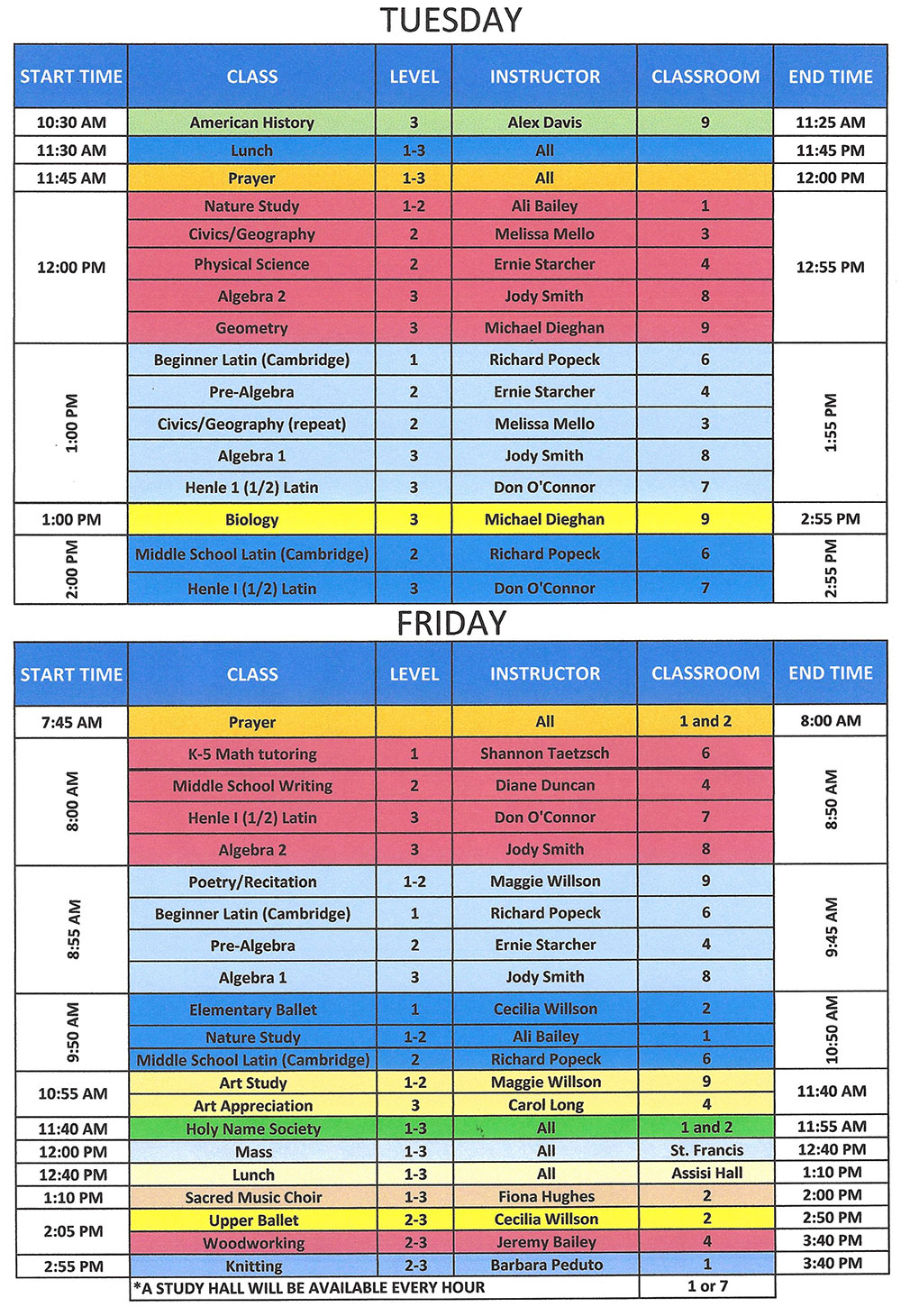 ---
Images of Students at The Oratory
| | |
| --- | --- |
| | A student completes a project in chair caning. The nature of boys invites a break from academics! |
| | Students from The Oratory visit the shrine of St. Katharine Drexel, one of the patron saints of The Oratory. |
| | Nature study plays a role in the curriculum of The Oratory. |
| | Girls of all ages work on their knitting skills. |